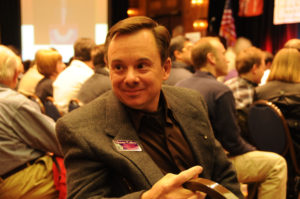 While MSC Software Solutions is lead by Shane, the business able to deliver well for customers because we are backed by over 500 developers having commitment, integrity, and skill.
Shane and his wife of 30 years have two adult children, two grandchildren, and have resided in north Georgia since 1983. Shane is a Georgia native who was raised in the beef cattle business. He attended Abraham Baldwin Agricultural College and studied Agricultural Engineering at the University of Georgia. Shane has been self-employed since 1991.
Shane has spent the past twenty-five years building and managing computer data systems.  He enjoys all aspects of the MSC Software Solutions work, from learning the requirements of a new customer, to engineering technical solutions, to advancing projects by drawing people together to focus on a common goal.
Shane has a love for liberty, truth and understanding which drives him to study the world in which we live. As a committed Christian Shane is active in church and other ministry.
In addition to his extensive work and study related to technology, Shane has spent years studying apologetics, history, economics, personality styles, organizational behavior, science, and more.
Shane was a candidate for the Georgia State Senate in 2010 and earned sufficient support to be in a runoff after a primary season with five candidates.
For several years Shane was the host of Liberty and Production, a radio show based in Commerce Georgia at WJJC, 1270 AM and WJJC.net.
Shane is the author of Know Stealing which is the written culmination of fifteen years of research and an extension of the message of Liberty and Production he vigorously presented during the 2010 Senate campaign.
Shane and Leesa share a top priority of personally returning to productive agriculture. Their vision is of a farm combined with teaching facilities which have the purpose of producing for today and promoting knowledge that will help defend individual life, liberty and property for generations to come.
---